Danielle talks about The Book Drop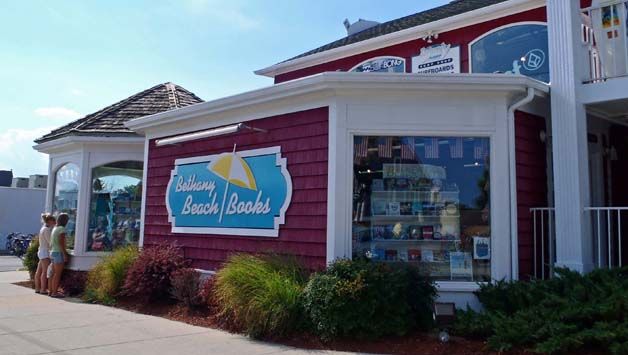 Let me introduce you to the nice people at Bethany Beach Books. Located in Delaware, this little gem of an independent bookstore is a) super adorable, b) open every day of the year, and c) responsible for one of the coolest subscription boxes you could possibly get. (They also have some of the best customer service going, but I'll get to that in a moment.)
Bethany Beach Books curates The Book Drop. There are four different subscriptions: The Jane (for adults who enjoy paperbacks of "Contemporary + Historical Fiction, with a sprinkling of Literary Fiction books), The Ernest (for adults who are more geared toward paperbacks that are "Thriller + Action novels, with a sprinkling of Non-Fiction books") and the young adult and children's boxes, which are for 14-15+ year olds and 8-12 year olds respectively.
You can choose your subscription level (one, three, or six months) and you'll receive books selected by the staff at Bethany Beach Books. I receive The Jane (my subscription was a gift from Dan) and have subscribed for two years. I am not exaggerating at all when I say I have unreservedly loved every single book I have received. Some of the books have definitely not been books that I would have chosen if left to my own devices, but I have greatly enjoyed each one of them; it has gotten to the point that I will stop whatever else I am reading when I receive one of my Book Boxes so that I can dive right in to this month's book.
But are books the ONLY thing that you get in your Book Box? NO! That's the next great thing about these! They almost always contain fun goodies! I have received autographed books and bookplates, book marks, and in one especially memorable occasion, lip gloss designed to match the main female characters in the novel. (I don't wear a lot of lip gloss, but MAN, it was super cool. The books themselves are wonderful, but the care that is taken with packing them up, bundling them with goodies, and shipping them out makes the Book Drop subscription extra-enjoyable.
Finally, I have to take a minute to talk about their customer service. I always get an email when one of the boxes is shipping (which I really appreciate so that I can keep on the lookout), but the book for December was delayed for a variety of reasons completely outside of the bookstore's control. The publisher actually ran out of the book. They emailed once to apologize that there would be a delay, which I thought was a thoughtful gesture, since it wasn't their fault. That's good customer service, I thought and then promptly forgot about it.
Until I got the next email, which explained that they had to change titles for December's book ("Not a big deal," I thought), that they were super sorry ("Not your fault," I thought), they were sending extra special goodies with the book to make up for it ("Wow, that's really good service," I thought), AND they were discounting my renewal.
They didn't have to do ANY of these things. They did it because these are folks who love books, who love other folks who love books, and who take those books and that love seriously.
It. Is. Awesome.
If you have a hard-to-buy-for book lover in your life, or you want to amuse yourself with an incredibly awesome subscription box? The Book Drop is for you. You will NOT regret it.